CONGRATULATIONS TO SHRED360 TAMPA!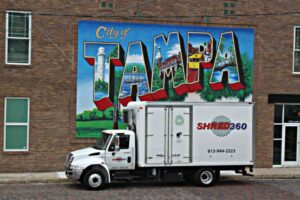 Shred360 Tampa has been in business for over 8 Years! Thank you to all of our wonderful customers who have made this possible. Shred360  proudly services the paper shredding, hard drive destruction, and information management needs for their community! To show appreciation for our customers, we are giving away a FREE YEAR OF ROUTINE SHREDDING! Please fill out the form below, and enter Promo Code "FREESHREDFORME2023".
2023 FREE ROUTINE SHREDDING FOR A YEAR!
"*" indicates required fields
Free Routine Shredding Drawing is valid for Free Shredding up to every Four Weeks. You will receive either a Secure Console or 95 Gallon Roll Cart Container. If you are an existing customer,  your will receive a discount up to the above said value (up to one Console or Roll Cart with service up to four weeks)